'Economic Sabotage' is what the Yellow tactics done to Erap and GMA!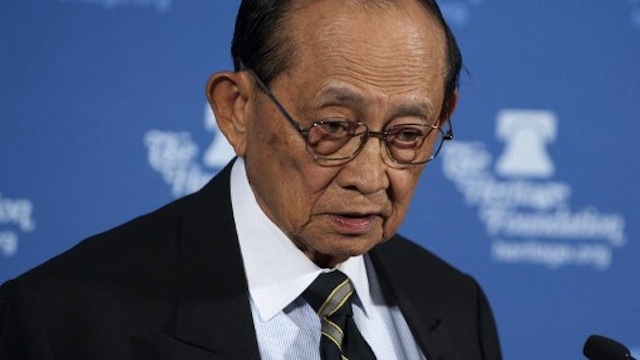 A pro-administration congressman accused former President Ramos yesterday of allegedly sabotaging the economy by claiming that President Arroyo has only restored "artificial stability" in the country and that there is still a lingering political crisis.
Zamboanga del Sur Rep. Antonio Cerilles said the assessment of the political situation that the former president made before foreign businessmen in Makati City last week amounts to "economic sabotage."
"I would like to think that statements like this amount to economic sabotage because it might have a negative impact on our economy. It might send a wrong signal to foreign investors and the international community," he said.
Cerilles said as a former head of state, Ramos should act as an elder statesman and should see to it that the gains he started are passed on to the succeeding administrations.
"The intention of all public officials, past and present, must be to work to uplift the lives of our people," he said.
In his statements before foreign businessmen, Ramos said there is still a lingering political crisis that could erupt any time, and that Mrs. Arroyo, though she may enjoy the support of generals in the military, does not have the trust of middle and lower-level officers.
He asked the President and her officials, on one hand, and the political opposition, on the other, to stop encouraging the military to intervene in resolving the political crisis.
If the military intervenes, no one would know where such intervention would take the nation, said the former defense secretary and chief of staff of the Armed Forces.
Whenever Ramos criticizes the President, Arroyo allies in the House of Representatives gang up on him. At one point, the President's defenders threatened to investigate the power contracts that the Ramos administration entered into.
Cerilles was ousted President Estrada's secretary of environment and natural resources. He is now an Arroyo loyalist.
He said Ramos was lucky during his time because he did not have to face a restive military and an opposition obsessed with gaining power.
For his part, Leyte Rep. Eduardo Veloso, another Arroyo loyalist, said the former leader should keep faith with the administration in the attainment of political stability and economic progress.
"During his term, we were on our way to a full economic recovery until the regional financial crisis struck the reversed the economic gains. But the people kept their patience and faith that we would surmount such crisis," he said.
He said the military would continue to be vulnerable to coup recruitment as long as reforms are not fully implemented.
Until last week, Ramos had shunned commenting on the political situation for about three weeks.
On Feb. 25, a day after President Arroyo signed Proclamation 1017 placing the entire country under a state of national emergency, Ramos criticized such declaration as "an overreaction, an overkill."
He said Mrs. Arroyo and her officials panicked in proclaiming a state of national emergency in the wake of a failed coup plot.
"Why can't she be cool under fire like (former President) Cory (Aquino)?" he asked.
Ramos said his support for Mrs. Arroyo was "waning, waning."
He said he refused to go to Malacañang on Feb. 24 despite repeated pleas from the President's allies because he did not want to be used as a "prop."
[source]